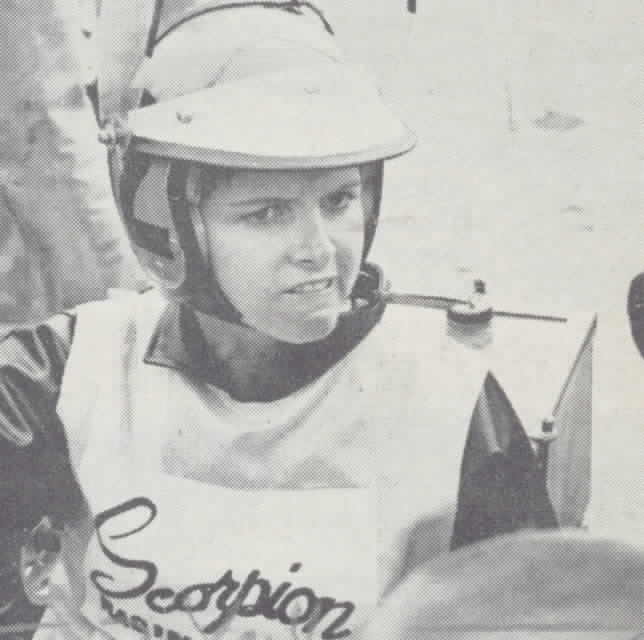 "Women Racers"
By Faye "Ladybug" Pierson
(Contributed to the Vintage Karts website October 2002, images added by VK Editor)
I got my first ride on a kit kart christmas day 1957 - Tom, my husband, and two other friends decided to build six karts one of which was my very own. It had a dropped front axle, round steering wheel, drum brake, and west bend engine - the first "bug" kart. I played with all the famous karting renegades on parking lots all over the valley. My first real race was at the Eastland parking lot with most of the infamous "go kart" gang in mid 1958.
Go Kart Manufacturing moved into a shop on Irwindale Avenue and "Bug" (K & P Mfg) settled in just two blacks south. The two companies/teams were fiercely competitive - so much so, that when they built the first go kart track, they banned our team from the use of it and the first ever Go Kart Nationals were approaching in a few months. Tom was member #16 in the Go Kart Club of America [predecessor to IKF - Ed.] and on the board so with some heavy member lobbying and arm twisting, we were finally allowed to run. Our team driver, Dick Geer, won the B-open and Grand National title and I set fast time by one full second in A class, won the first heat, broke a frame in the second, but managed to get back up to second place in the third heat, taking a second overall. That was 1959.
I raced a lot of 100 milers in the next two years, Tecate, Allentown, Nassau, several other mexican border races, and two invitational races in Mexico City and Culiacan, and the 1960 Grand Nationals. We bought a big Greyhound bus and loaded ten karts on the roof and took the team up and down California, sometimes making two different races on a weekend (it was always tough, getting up Monday morning, sore, and sending two boys off to school and me into the "Bug" office).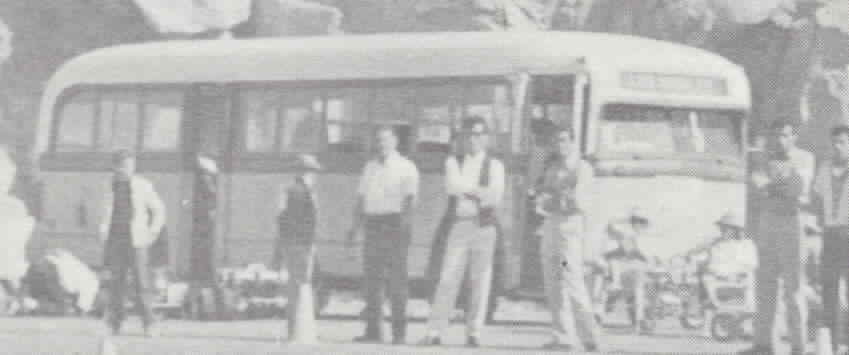 The Bug bus trackside, ca 1960.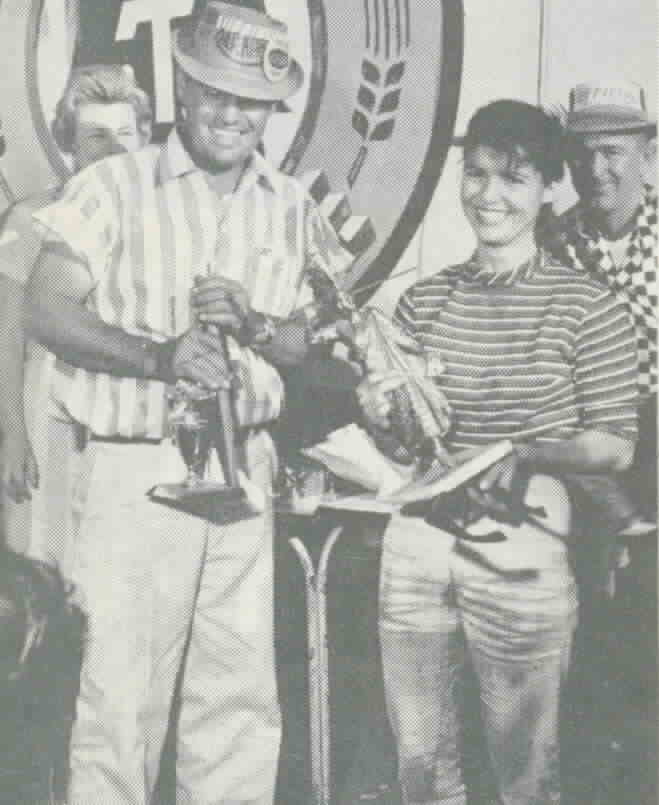 Tecate Enduro 1961: Faye receives a beautiful Aztec trophy,
one of three she picked up for a fine drive to 1st in A Super,
5th Overall, first kart in A classes to finish. Kart was Bug
Scorpion. Others in photo: Gene Guteridge, Chief Starter;
Norma Pierson, Trophy Queen; and Jerry Bielke, Serape
Circuit Organizer.
In 1961, I was invited by Red Crise, the best darn race promoter of his time, (he did the Nassau speed week for years that brought all the famous sporty car drivers from around the world - and then added karts two years in a row), to join his fourteen 'man' team going to Europe to race in England and Italy. One of our team memers was 16 year old Bobby Allen (who went on to be the most famous outlaw sprint driver in the east). I was purposely taken out in England, but managed to finish second to an Englishman!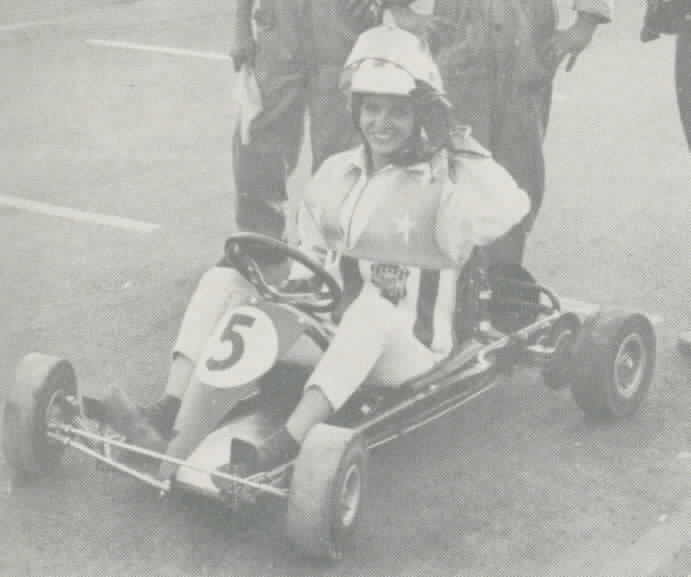 Faye in Milan, Italy, 1961.
In Milan, Italy, though I was doing great [with a Mac], Tom decided, we would import an Italian engine for production and mounted a Saetta engine on my "Bug".. and assigned me an Italian mechanic who did not speak a word of English. the bad news was, I dropped a chain (because the gear had to be so big) in the main running first - the good news was we did go on to import the first ever Italian kart engine (I did run in a secondary single engine event and won it).
Aa few months later, I was testing an Austin Healy at Riverside International and it swapped ends and sent me into an embankment putting me out of serious racing for awhile. I did some testing and promotional work for a few years, then in the late 80's, I entered some street races locally - mainly because my son, Jon and grandsons, Mitch and Tommy Jr. were also running and it made us the first three generation racing family - my other son, Tommy was our mechanic.
I thought I was through racing but Tom Medley kept needling me about the "vintage" thing that was taking hold all over the country and how much fun it was so I joined him and his racing friend, Dave Bonbright (a fantastic engine builder and driver) for the first "Karting Olympics" at TNT race track, Quincy, Illinois. It was so great to see many of my old friends, Gus and Terry Traeder among them, and meet the kids of the vintage crowd who are enjoying racing along side of us old timers - not all the drivers are vintage - just the karts! I did a total of four vintage races in 2002 at various events and for me it was great to be able to race on the tracks I've heard so much about but that weren't around in my time. My traveling companion, good friend, and fellow vintage kart driver at these events has been Mona Sturgeon and now Rick Sturgeon is getting involved (both multiple Duffy winners). Terry Ives is another strong supporter of vintage racing and we are anxiously awaiting the beginning of the 2003 season.
Besides my karting activities, another racing opportunity came up this year for me - my attorney, Dave Cordier, asked me if i would like to drive his Neon in time trials. They run with NASA and TCRA at the big tracks - Willow, Button Willow and California Speedway and now I've gotten to drive all of these tracks and I told all of my racing buddies, "I'm like good wine - I'll improve with age", so now he and his friend are building me a V-8, 4-speed racing Fiero (actually cheaper than a 125 shifter kart to build) which i'll do time trials in until I'm good and then race it - they hope to be able to offer one or two classes for the inexpensive fiero chassis in the near future.
My motto is, "you may never be too old to do the things you use to do"!

A cool photo from the 1960 Bug brochure. That's the Bug factory team bus in the background.