Letters - UPDATED Dec 28, 2005
How to submit letters
Letters are posted in the order received.
---
9/16/05

Hi Bob, just wanted to show a picture of an old kart I use to own. I bought it from Hager 4 Products in Portland Oregon. This kart was on the cover of a few magazines and was powered buy a 250 Formula One Yamaha twin. The thing vibrated so bad that you couldn't focus your eyes at full speed down the straights. Someone stole it from my dad's garage and it's never surfaced again but I keep looking, they also got a Caretta at the same time. Dominic Salvato Anchorage, Alaska.
Dominick Salvato
dominics@gci.net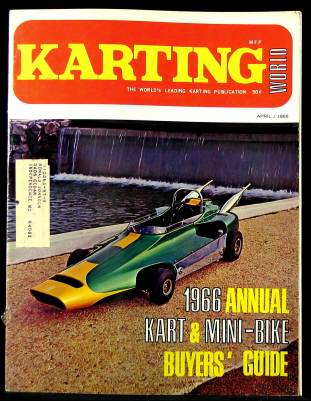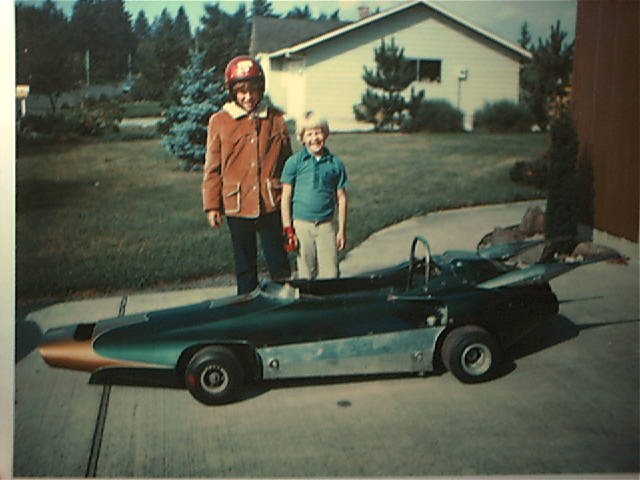 ---
9/19/05
Hi Love your site .I have had this cart along time and have no idea what kind it is .I was told that the wheels were rupp.Any help is appreciated.
thx johnny.
Johnnytt50033@aol.com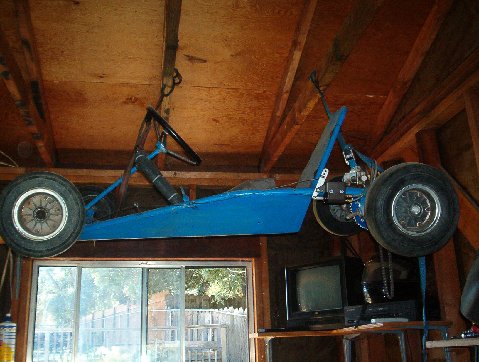 ---
9/29/05
'70's restored as shown. Tubes, tires have tread left but are old, bearings sound and feel as new. Make offer, whatever is fair plus shipping, packing. Been karting since it started, rather skip ebay for enthusiast.
trhanson@earthlink.net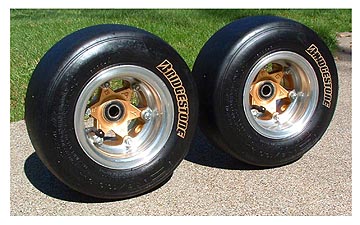 ---
10/12/05
Hi Everyone -
Fall cleanup in Durango provided me with a discarded go-kart frame that has taken me back to the happiest days of my youth. I believe it's a Bug. Despite all the rust, schmutz, overlapping rattle-can paint jobs, including painted tires and oversprayed alloy rims I am overjoyed at my find. Like the Bug photos I've seen, it has the narrow steering wheel hoop, side rails, and some stringers that run above the main frame tubing to where the front crossmember is attached. But the front spindles, axles, etc. are totally SNAFU from a prior owner's (apparent) attempt to turn the front crossmember upside down and construct some sort of off-road machine with greater ground clearance. He apparently gave up after realizing no tie rod imaginable could connect it all together and actually steer the front wheels. I'm left with spindles and spindle holders welded to the crossmember at angles that generate a tremendous amount of camber. The front wheels don't so much turn as rise and fall. The key identifying feature is the truss above the main frame tubes which runs out to the front crossbar, to which the steering hoop crosspieces are connected. If anyone could help me with some reasonable kart alignment specs to shoot for - camber, spindle-to-axle angle, and kingpin angle I'd be extremely greatful -- even if they're not off a Bug. The soon-to-be-replaced factory front tires are 10x3.5 x 4 General Juniors. Info on possible replacements would be helpful as well. I also need a replacement alloy, deep-dish, 2-piece, six-bolt rear left wheel. FYI, passenger rear right wheel fits over a large nut keyed/set screwed to the axle to provide drive on that side, if it helps you identify the wheelset.
Wade Nelson
phone 970 259 1494
Durango, Colorado wadesub262@wadenelson.com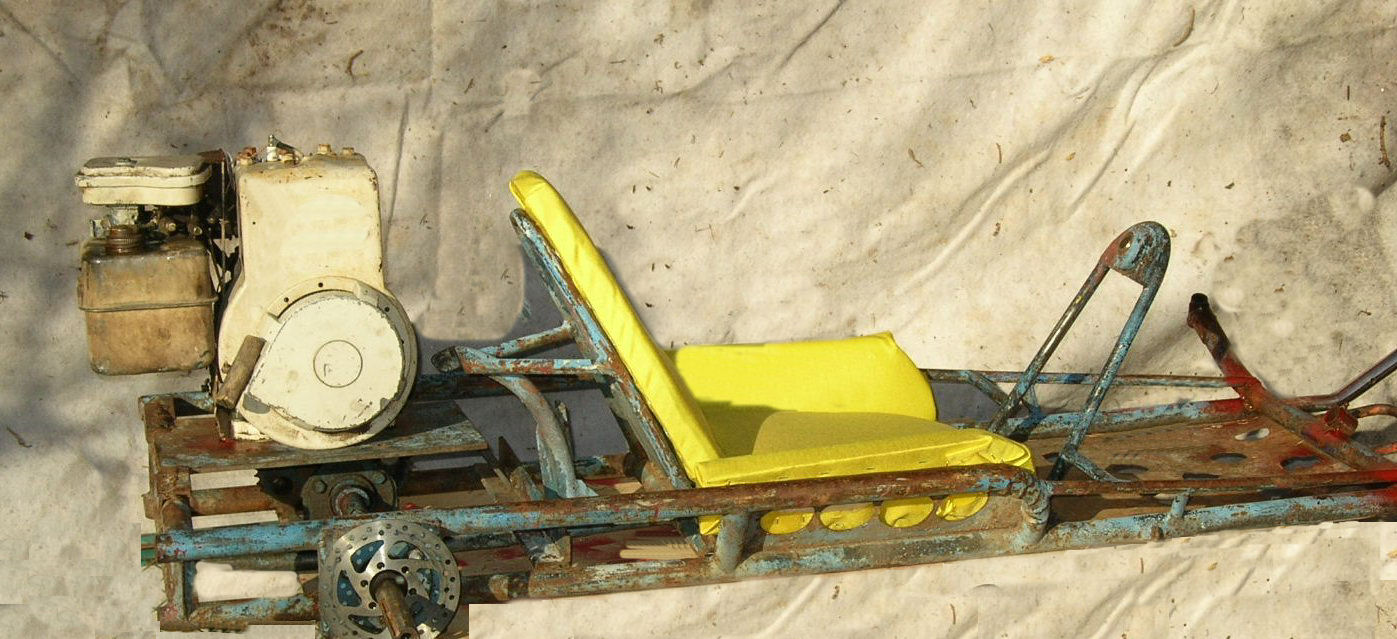 ---
11/3/05
HI
I 'm looking for a restored dual chromed engine vintagekart, for display. Wondering in anybody knows anybody who would like to sell one. Thanks Perry 215-698-8792 (home) 215-742-4600 (work)
---
11/8/05

Bob:
Hi Just bought this restored Hell CAT with twin NOS West Bends 700's
Theo Holstein
Preduction@aol.com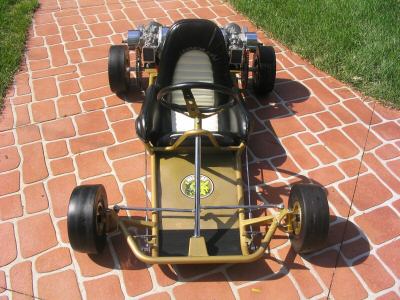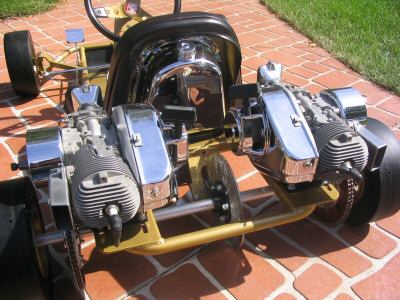 ---
11/13/05
Was wondering if anyone could give me some help in positively identifying this kart. As near as I can tell, it looks like it must be a go-kart 400, based on photos in the gallery. My dad raced this cart locally in the late 50's/early 60's. As he remembers it, he bought it from a local dealer, who received it as a kit, then assembled them and sold them. Engine is a Clinton A400. This kart is being prepped for duty for the third generation in the same family, as my two sons are nearing the appropriate age to enjoy it.
I was also looking for opinions on whether to restore this kart, or keep it original. The only thing not original as it sits are the tires
and the air cleaner. We still have several trophies earned at local races, and the original alcohol carb my dad used on it. Any information would be appreciated!

Thanks,
Jamie Jeffries
Salina, KS
"James Jeffries" <jjeffries2005@sbcglobal.net>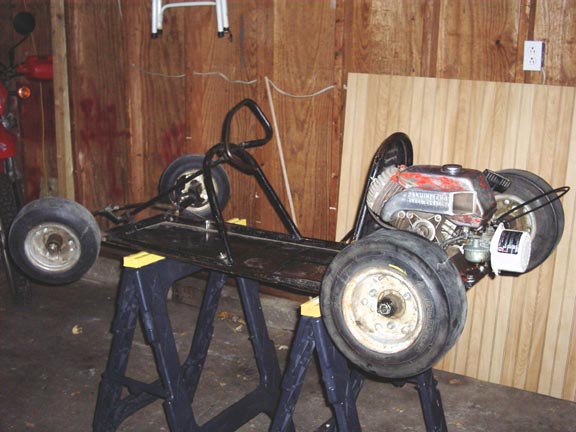 ---
11/22/05
I have a 197? Fox mini mudder mini bike. Just wondering if someone is interested or if there is any where you can get parts for it
lconnolly@comcast.net
---
11/24/05
Hi My dad had a go kart track back in I want to say 60's-70's in Pikeville NC . I think it was called Airport Road Speedway. I have one old movie clip and one old photo. I would like to have more movies and photos from this track. Has any of your members ever talked about racing at this track? thanks for your help

bmozingo3@nc.rr.com
---
12/2/05
Bob:I was at the Dodge dealer the other day buying a company minivan and
noticed, in their sales brochure, a vintage Rupp kart with dual 101's.
Pretty neat! -- Darrell
[Darrell Sirarz runs the very excellent KMI.com web site - Bob]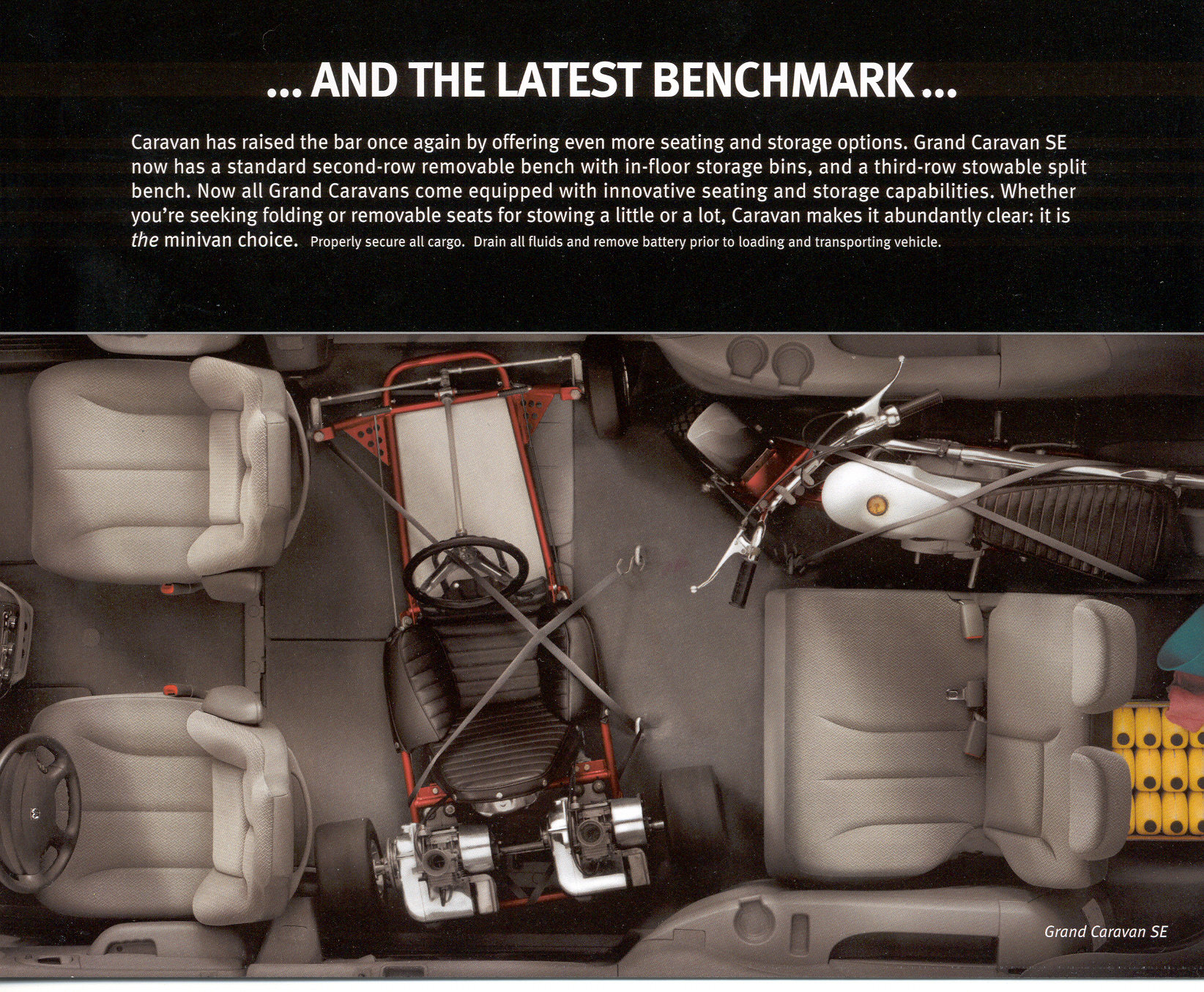 ---
12/4/05
Hello, I have im guessing a 74? margay sidewinder with a freshly rubuilt mac 92. The kart is in great condition, well taken care of and not beaten on. The motor is fresh and has been ran only about 5 times for short runs. I have had it for a while and taken care of it, I was wondering how much i could sell it for? Any estimates would help. You can email me back at nywcmot101@netscape.net
Thanks, Tom
---
12/5/05
I live in the northern NJ area and am interested in any racetrack in this area or southern NY or north east PA
I raced at the San Marcos Karting Kapital in the early sixties in San Marcos CA. I had a dart Kart with a Mac 7
Bob Feld
rofe33@optonline.net
---
12/27/05
Any info on the one seater Sears kartssold in the 70s or plans?
Thanks, Bert
BERTIESIMMONS@aol.com
---
---
Please abide by the following to make it easier for us to include your letter.
Thanks, Bob.
Your Letter:
Submit via e-mail only. letters@vintagekarts.com
Keep it short - 1 or 2 paragraphs.
Please watch spelling and grammar - we will not correct these
Your Images:
JPEGs only, 2 maximum. Keep file size below 40K each please. No zip files.
Don't name your image "kart.jpg". Please name it by your own last name, eg, "smith.jpg" or "smith2.jpg".
If you prefer, instead of attaching images, you may provide a link to an image hosted elsewhere on the web (such as your own home page).
On each site update, prior letters and images will be deleted. Nothing will be archived.