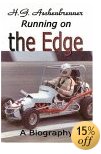 Harv Ashenbrenner's Book
You read about his record-breaking Banchi FKE karts on this web site - now read his new book!!!
Running on the Edge-
H.G. Aschenbrenner
$16.95

H.G. Aschenbrenner has loved speed all his life. He used to set up bicycle stunts as a kid. As an adult, he became involved in designing, building, and racing various vehicles for major companies - everything from T.Q. Midgets to snowmobiles to full-sized race cars to go-karts. And he still loves it. In fact, he built it into his own company, Aschenbrenner Racing, in Fond du Lac, Wisconsin.
This is his story. The struggles, the failures, the successes, the victories, the tears and the laughter. It's all here. If you love racing, this is one for your library.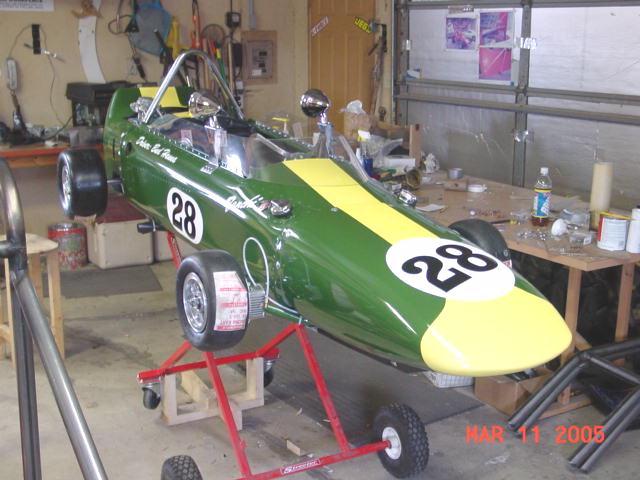 (recently restored Banchi chassis #11)
From a Reader who knows the author -
Harvey, Harvey, Harvey... If you were a cat, you'd have used up eight of your nine lives. I finished reading your book... loved it! I found it fun reading, humorous and quite interesting. Cathie must have the patience (and love for you) of a saint... you are a lucky man to have found a true soul-mate. Thank you for including Gaile's name, as being the starter of your passion for karting. Who'd have ever thought, that at the time he pulled in your driveway, back in 1960, with the kart in his trunk... it would only add fuel to the fire within you for the speed you so craved. Many females may not understand your discussions of "tork, suspension, linkage, throttles, etc"... but I did understand a lot of it. I spent many hours under a car, or with my head under a hood, with Gaile... especially with the '54 Corvette that we had for 17yrs. And like you, things had to be *right.* We also snowmobiled for several years... so I understood all that reading too. He bought our first Artic Cat in the late sixties... a Panther, which was long enough for me to ride comfortably behind him. About two years later I bought my own Artic Cat Cheetah... because I told him, after he dumped me in Lake Winnebago, one cold Sunday afternoon... "damn it Furlong, that's the last time I am riding behind you... once in the cold water is enough, and next year I want my own." We went to those races up on Kiekhafer Park, and I wondered, as I read that section in your book, if you could have been there too. But I'm thinking that you may have moved on by then, to Minn, or someplace. The stories you told, starting from when you were eight years old were delightful... your sense of humor made it even better. Being a mom of two sons, thirteen months apart, I sure could relate to the "push karts" made out of scrape wood, the bikes they used to run off of make-shift ramps, etc... you sure brought a smile to my face while reading that section. Just needed to let you know... fun book, interesting, well written, and your sense of humor added to the chuckles. I know all about those "naughty" words... it seemed to be the only way for Gaile to make things work sometimes. In many ways, you two had a lot in common. What a wonderful experience you had, living your dream, with the support of your friends and family... you will never have to look back and say "I wish I would have"... Marlene
Author's Bio
H.G. Aschenbrenner grew up in the small town of Fond du Lac, WI. His father always listened to the Indy 500 every Memorial Day, fostering and supporting an interest in racing. At that time, modified races were popular at the local fair grounds along with a few thrill shows now and then.
After high school, he started racing go-karts. He couldn't afford to keep up with the big names in the sport until 1965, when they came out with a class called "Formula Kart Experimental", or FKE. He built two of them, and ran them on a track 1½-2½ miles long, hitting speeds up to 148 mph. He built a total of 11 of them in a four-year period. They were named "Banchi's", and went on to win 7 national championships in five years. He was then picked up by two factory teams racing snowmobiles for them. One thing led to another and now those 11 FKE cars are very famous on the Vintage Karts website. They are selling for 40 times what he originally sold them for.


(one of Harv's Banchi karts)
Harvey and Cathie Aschenbrenner still live, work, and play in Fond du Lac, Wisconsin, where it all started.