---
Your Old Photos
---
Dennis and Marise Smirl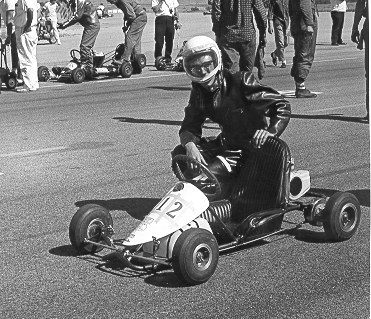 This first photo is Dennis with a GoKart 1200, Mac91. This was taken summer of 1965 at Continental Divide Raceways just south of Denver CO. "It was an hour and a half race, and everybody from A Stock Lite to C Open ran together.We started over 150 karts at the same time.Things aren't so crazy now."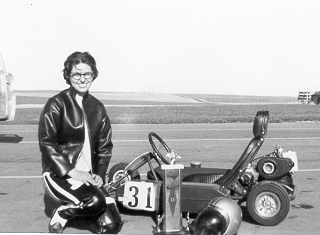 This photo of Dennis' wife, Marise Ann Smirl, was taken at Rocky Mountain Dragway in May of '66. Dennis was in the service and Marise took the kart out and raced it in A Super Lite. Ran second in a field of 12.Then she sent pics and a letter to Dennis explaining what she did.
The kart is Rupp's first enduro. "Ugly tanks and hinges all over the place so you could set the seat and steering hoop anywhere from full sit-up to semi-lay-down. Good handler, but it was heavy."
Karting Evolution (1967)
Return to Your Old Photos
Return to Vintage Karts Home