Suddenly it's 1960!!!


Lindsay Karting Club, ca 1959-60. See full photo
First let me say that you just never know where I'm likely to get an inspiration for a new article. So much happened and changed with karting in those few short years between Art Ingel's first kart in 1956 ("Kart #1") and the implosion of the early karting "bubble" in 1962. There are so many stories and so many perspectives and ways to look at that fascinating period of karting history. What inspired this particular article, however, was my recent purchase of an old issue of Sports Car Graphic magazine, the Feb 1960 issue to be exact.
One of the characteristics of the early karting "craze" was the appearance of karting articles and ads in a variety of other automotive magazines - the rodding magazines, the sports car magazines, the Popular Mechanics and Mechanics Illustrated, etc.As I thumbed through this particular issue of SCG, however, I was struck by just how pivotal that virtual 'moment' was in early karting evolution. Before I share some of the images from that issue, I should provide some backdrop. Let's "Wayback Machine" to 1959. Here is a sampling of miscellaneous karts from a 1959 pictorial. The karts are respectively: Cool Cart, Caper Cart, Swoopster and Jo-Cart.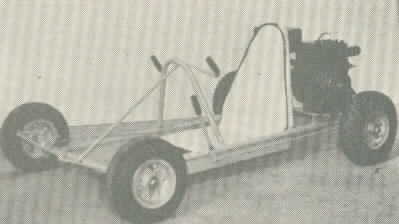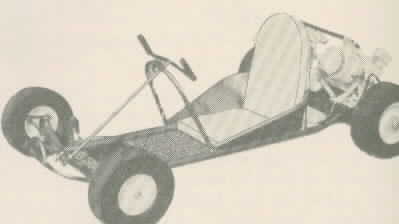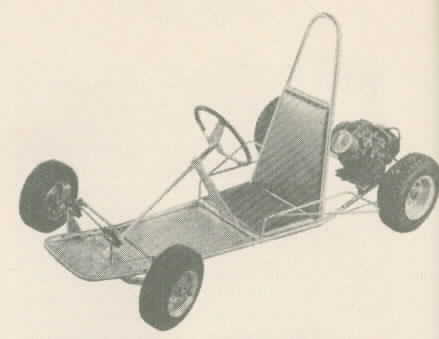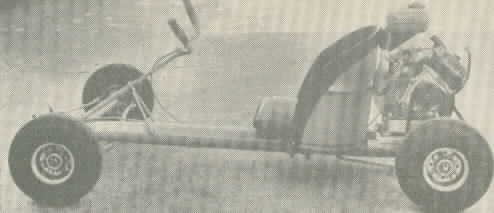 The above samples from '59 are not that year's best machinery, nor its worst (some of the machines back then were completely ridiculous and/or juvenile), but you get an idea where things were at. Oh, and you'll note that many manufacturers used "Cart" instead of "Kart" in their names (though in some cases it could be argued that it was for illiterative effect such as with Caper Cart and Cool Cart).
At the beginning of 1960, Go Kart Mfg was still making the 400Bmodel and Bug had not yet introduced their Wasp. Karting would indeed do lots of growing up, however, before the year was over. Here are some images from early 1960: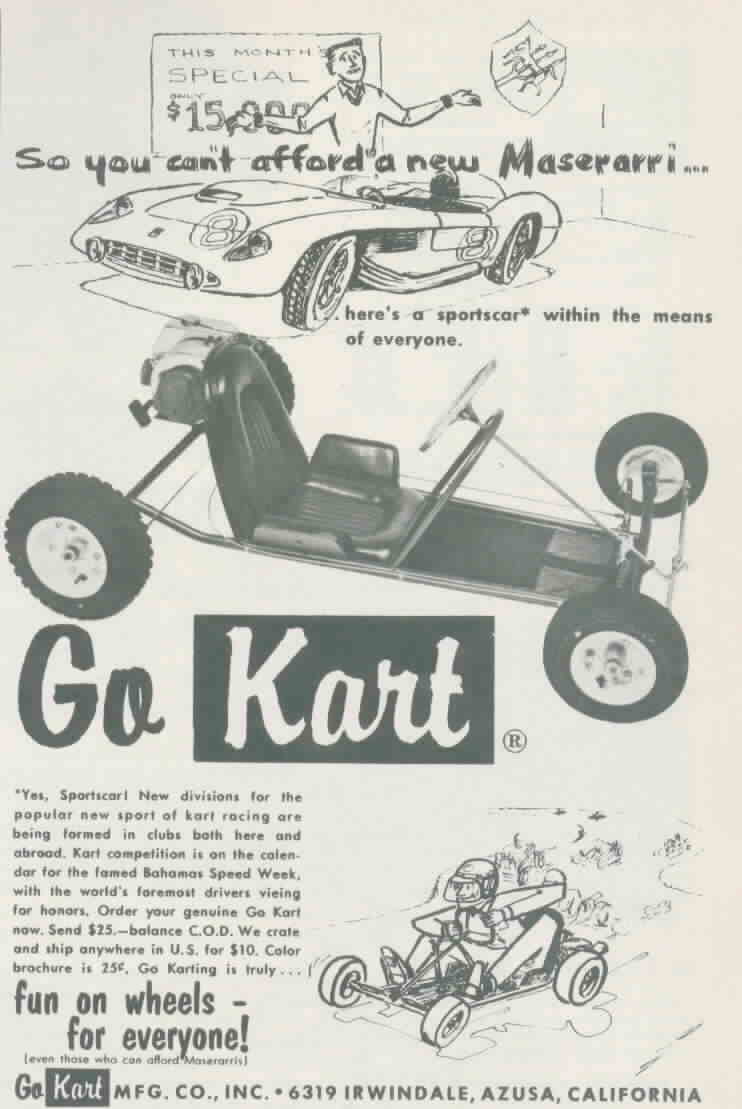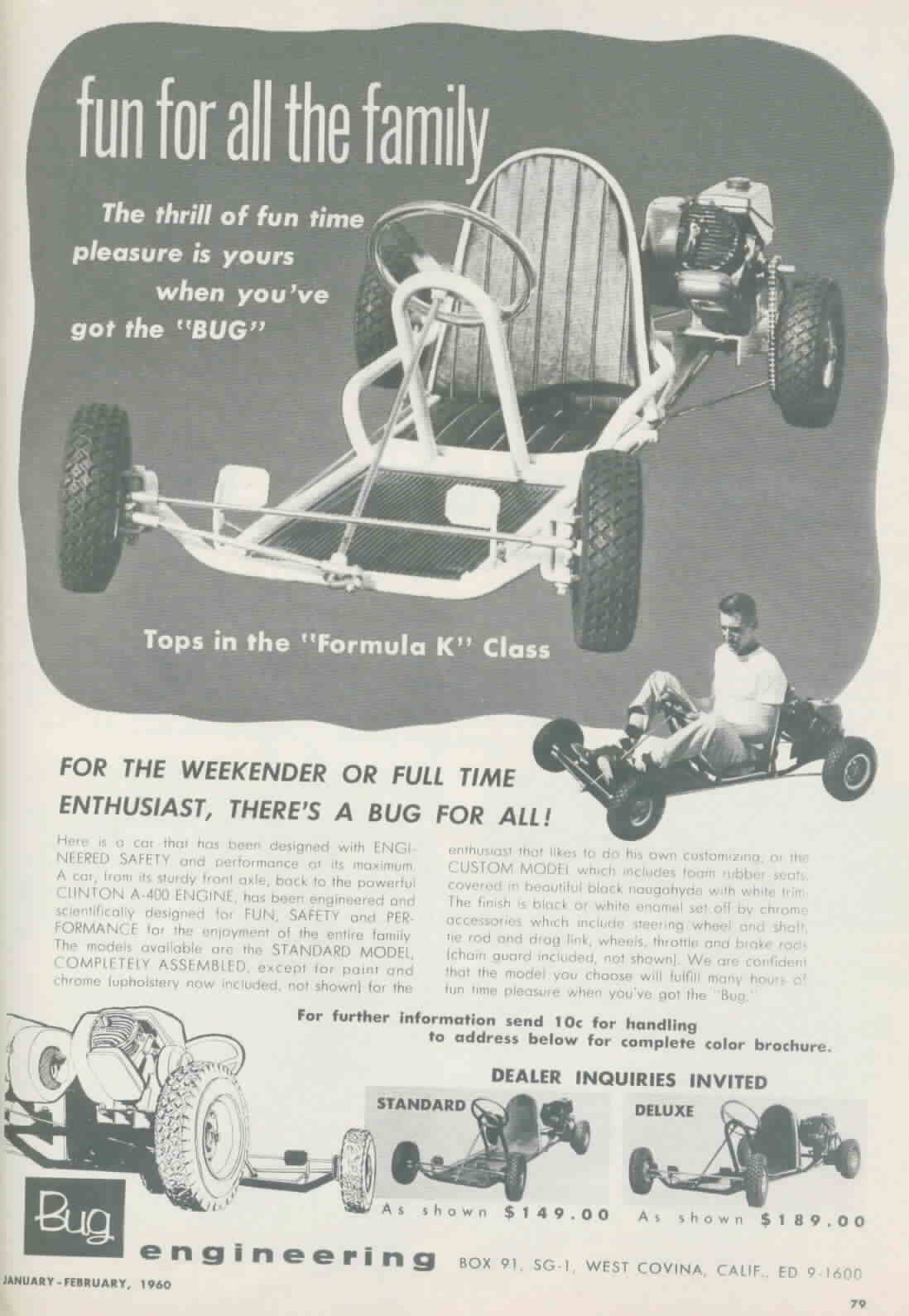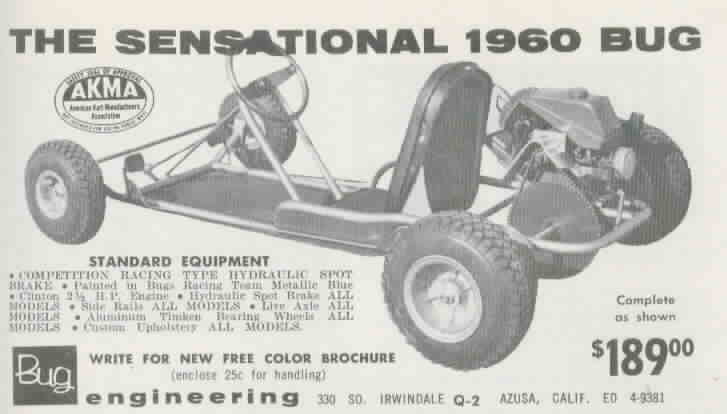 The first image above shows the Go Kart (400B) as it appeared in the Feb 1960 Sports car Graphic. In that same issue was a neat Bug ad (the second image) that showed three models - their early "Standard" and "Deluxe" models (shown at the bottom) and their new "Custom" model (the main photos in the ad), billed as "Tops in Formula K" (maybe somewone can explain to me what that means). The "Custom" features Bug's earliest version of a side rail, one that wraps 'round back of the seat. The Feb 1960 Sports Car Graphic must have gone to press just a bit earlier than the Feb 1960 issue of "Quarter Midget and Karting World", because the latter carried the first advertising for Bug's new and revolutionary "Wasp" - the first REALLY GOOD racing kart from Bug (this is a kart I personally own - see the "Bob's Bug" articles on this web site). Go Kart's comparable REALLY GOOD kart, the Go Kart 800, would make its debut about mid-year.
One of the surprising finds in the Feb 1960 Sports Car Graphic magazine was an ad for the Moss Cart. No. I had not forgotten about Moss Cart, I just hadn't really realized how early it arrived on the scene relative to its comparable peers. Quite advanced. In fact, besides the ad, SCG carried an article about the Moss Cart in the same issue. It was designed and built by Indy 500 chassis designer George Salih.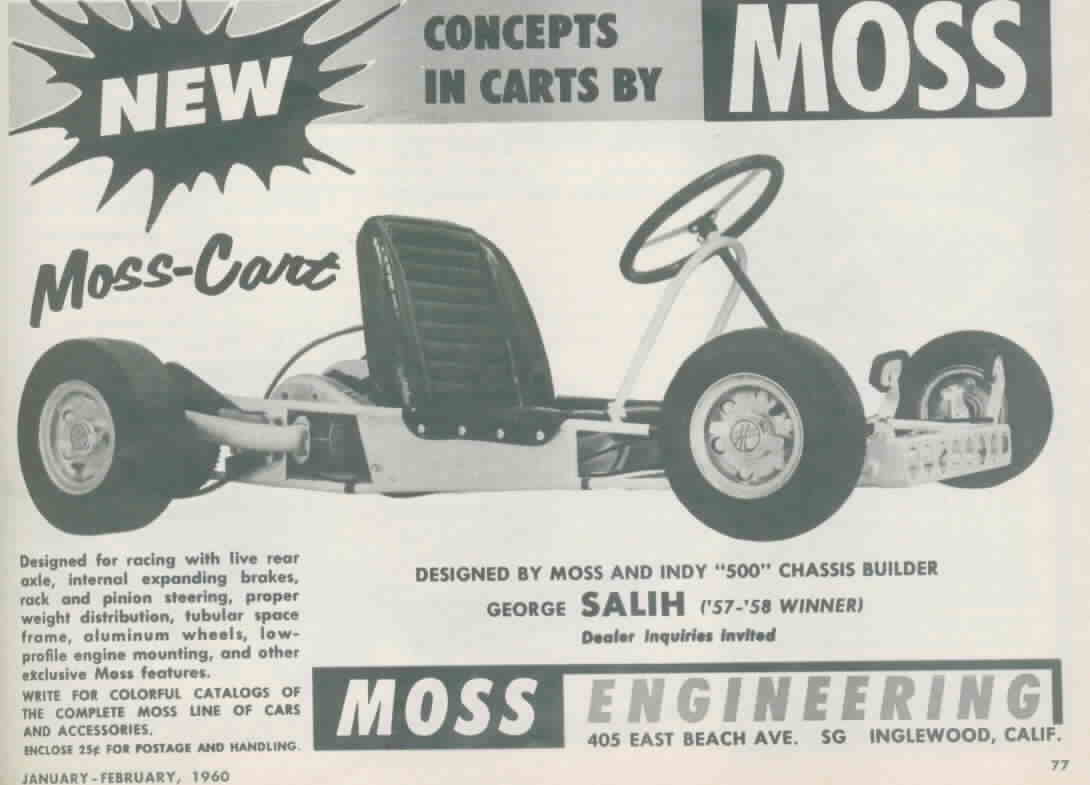 A few things to note about the Moss Cart. First, the name (there's that "Cart" thing again). Then - if you take a look at the profile, it really is somewhat similar to the Rathmann Xterminator. The Xterminator, of course, differed by being of aluminum monocoque construction vs tubular, but there is definitely some similarity in the way the two Indy car builders (Salih and Rathmann) approached the task of designing a race kart. The Xterminator, of course, came later, appearing in August 1960 in prototype form and later, driven by 16 year old Bobby Allen, taking the World Championship victory at Nassau in December.
Enter 1961, and nearly all vestiges of the crude and in many cases misguided early attempts at kart ("cart?") designs had disappeared from the scene. Karting grew up a lot in 1960.