vintagekarts.com
Online Books & CDs
about Cars and Karts (updated 8/25/00)

amazon.com features the widest selection of books and music at Amazon's amazing discounts! On this page you'll find book our editor's picks related to karts and other automotive topics.



Use the Table of Contents frame to zip to a category.
[If you don't see a Table of Contents, click here]
Click on a selection to find out more about it from Amazon!



[Page1]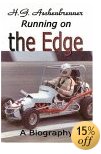 You read about his record-breaking Banchi FKE racing karts on the Vintage Karts web site - now read his new book!!!
Running on the Edge by H.G. (Harv) Aschenbrenner
(only$14.41 at Amazon)
Karting
Kart Racing (Motorsports)- Jay H. Smith; School & Library Binding
The Beginner's Complete Karting Guide- Jean Louis Genibrel; Oversized Paperback.Getting started in kart racing; which class is for you; how to buy a kart and equipment: tires, weight distribution, tire readings and pressures, plug readings, exhaust tuning, gearing and aerodynamics. Driving, handling, engine care and competition tips.
Go-Kart Racing Chassis Setup - Brian Martin; Paperback Reduce your lap times through proper chassis set-up. Weight distribution, steering principles, tire theory and use, chassis set-up and alignment and more.
Karting Tools & Tips - Gary Martin; Paperback Over 125 karting related tools, do-it-yourself short cuts and tips to simplify kart construction and preparation.
Competitive Karting - Gary Martin; Paperback. Kart, sprint, dirt and enduro; how to get started. Where and what to buy, engine preparation, accessories, troubleshooting, and lots more.
4-Cycle Karting Technology - Bill Starrett; Oversized Paperback A book dedicated to 4-stroke engined karts. Hundreds of tips to make a kart run faster and last longer. Topics include: engine building, blueprinting, fuel system, carb jetting, tuning, camshafts, ignition, gearing, aerodynamics, handling, alignment, tire stagger, and twin engine setups.
Small Engines
Tecumseh L-Head Engines - Paperback. Covering more than 50 Tecumseh single-cylinder, L-head (valves in cylinder block), aluminum engines with 2.5 to 10 hp. Includes fundamentals and general engine information. Plus troubleshooting, inspection, repair techniques and more.
How to Repair Briggs & Stratton Engines - Paul Dempsey; Paperback
Briggs & Stratton L-Head Engines - Paperback
Chilton's Small Engine Repair up to 20HP - - Kerry Freeman; Paperback
Haynes' Small Engine Repair Manual - - C. Choate & J. Haynes; Paperback

Race Technology
So You Want to Go Racing? - John Webb; Oversized Paperback. Considering your first start in racing? Get this book! Describes the racing classes, how to buy the right tools and equipment, organizing your crew, shop set-up, and getting the most out of your limited budget.
Competition Car Downforce: A Practical Guide - Simon McBeath, Hardcover. This book will help you improve the performance and handling of your car. Downforce devices explained in a readable and well-illustrated format. With interviews with experts and data from the major constructors, this book provides the theory of downforce, lift and drag, as well as wind tunnels and computational fluid dynamics, splitters, spoilers, wings, airdams, as well as racing rules and restrictions.
High Performance Automotive Fuels and Fluids - Jeff Hartman, Paperback.(Motorbooks International Powerpro Series).
Ayrton Senna's Principles of Race Driving - Ayrton Senna; Hardcover.


The Ultimate Encyclopedia of Formula One: - The Definitive Illustrated Guide to Grand Prix Motor Racing. - B. Jones & D. Hill; Hardcover.

Grand Prix Circuits: A Tour of Formula 1 Circuits from Starting Grid to Chequered Flag- Alan Henry; Hardcover.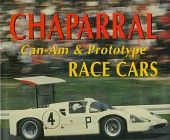 Chaparral Can-Am and Prototype Race Cars - Dave Friedman; Hardcover. If you dug Chaparrals, you'll love this book!

Michael Schumacher : Formula for Success : -The Gripping Inside Story of One of Motor Racing's Greatest Champions. - Michael Schumacher, Derick Allsop, & Matthew Schumacher; Hardcover. Michael Schumacher began his career in kart racing at age four. This authorized biography shows his rise to Formula 1 champion status.
---
Autocourse Annuals! The best references for Grand Prix and CART.


Autocourse Cart Official Champ Car Yearbook
1999-2000 (Autocourse Cart Official Yearbook,
1999-2000) Jeremy Shaw, Editor. Hardcover. THE CART annual to get.

Autocourse Cart1998-99 : Official Champ Car
Yearbook 1998-99
Jeremy Shaw. Hardcover.
NEW!! Autocourse : Grand Prix Annual: 1999-2000
Alan Henry; Hardcover. THE Grand Prix annual to get.

Autocourse :Grand Prix Annual: 1998-99 - Alan Henry; Hardcover. THE Grand Prix annual to get.

Autocourse :Grand Prix Annual: 1997-98 - Alan Henry; Hardcover. THE Grand Prix annual to get.
---
NASCAR

NASCAR: The Thunder of America, 1948-1998. - by NASCAR Association; Hardcover. The Thunder of America, the official 50th anniversary celebration of NASCAR, is an appropriate mile marker in this uniquely American story. Just open it up and feel the heat of the track and hear the growl of 700-horsepower engines.

The Official NASCAR Handbook - Everything you wanted to know about the NASCAR Winston Cup Series. Paperback. Produced under the direction of NASCAR, here is the ultimate handbook for NASCAR fans: the races, cars, competitors, sponsors, highlights, and much more.

Jeff Gordon: Portrait of a Champion - Jeff Gordon & Bob Zeller; Hardcover.This first-ever authorized biography of two-time Winston Cup NASCAR champion Jeff Gordon takes readers behind the scenes to experience the greatest racing moments of 1997, recounting the excitement of this popular sport--from the vantage point of the youngest NASCAR winner ever! 125+ color photos.

American Stock Car Racers - Don Hunter & Ben White; Hardcover. American Stock Car Racers documents the reality of the near-mythic world of stock car racing. Richard Petty, Bobby Allison, Dale Earnhardt, Junior Johnson, "Big Bill" France--they're all here, along with biographies and the ominous birth and death dates where appropriate. With its full-sized photos of grit-faced drivers and streaking cars, this is a big, colorful testament to a tough sport and the drivers who live for speed.



American Zoom Stock Car Racing from the Dirt Tracks to Daytona.- Peter Golenbock; Paperback.An exploration of the history, development, marketing, and appeal of American stock car racing traces the sport's evolution from moonshine runners all the way to today's multimillion dollar racing circuit, profiling some of the sport's great personalities.

The Last Lap The Life and Times of NASCAR's Legendary Heroes.- Peter Golenbock; Hardcover. In The Last Lap, the author of American Zoom chronicles the lives of NASCAR legends who pushed their racing cars--and sometimes their personal lives--to the limit. With danger lurking at each turn, the drivers form a colorful cast in an ever-traveling sideshow that has become the biggest spectator sport in the world.


---
Drag Racing Legends -Tony Sakkis; Paperback.

High Performance: The Culture and Technology of Drag Racing 1950-1990 (Johns Hopkins Studies in the History of Technology)- Robert C. Post; Paperback.

Bracket Racing - Tony Sakkis; Paperback.

Drag Racing (Race Car Legends) - Paul W. Cockerham; Library Binding.
Pro Stock Drag Racing - Martin Hintz, Kate Hintz; Library Binding. Describes the sport of pro stock racing and the vehicles and the various people involved.
Drag Racing (Motorsports) - Jay Smith, Leslie Lovett (illustrator); School & Library Binding.
The Autobiography of "Big Daddy" Don Garlits - Don Garlits; Paperback.
VHS Drag Racing Tapes:
BIRTH of DRAG RACING Series






Birth of Drag Racing Vol 1
Birth of Drag Racing Vol 2
Birth of Drag Racing Vol 3
Birth of Drag Racing Vol 4

Big Daddy Don Garlits Drag Racing Museum
Video Game Books
Super Mario Kart 64 Unauthorized Game Secrets - The road to victory starts with this guide book that provides player with tips and strategies for every course and every payer, the hard-to-find turbo start for your kart, a special aggressive driving section, and lots more.



Didn't find the book you wanted? Search amazon.com!

Looking for Car Tunes? Check out our Music Online Page

Visitor No.
To Page 2
Return to Vintage Karts Home